The 2M/E HANABI has made another dramatic advance by adding HD/SD multi-bit rate/multi-format support*, Real 3D digital video effects (DVEs), color correction, a wide range of expansion options for ensuring future compatibility, and a host of other functions. The HVS-3800 series offers functions and performance that are a step ahead of the competition. *HVS-3800HS only. The HVS-3800S is SD only.
HVS-3800HS: HD/SD switchable model
HVS-3800HS is switchable between HD or SD formats by simply re-initializing the Operation Unit's mode setup. HVS-3800HS functions in various HD formats such as 1080/60i and 720/60p. Additional support includes 4:3 display generation in HD mode; or the choice of letter-box or squeeze display in SD mode. Thus, providing the preparation needed for up/down conversions.
Supported format;
HD formats: 1080/60i, 59.94i, 50i, 24p, 24PsF, 23.98p, 23.98PsF, 720/60p, 59.94p, 50p
SD formats: 525/60 (NTSC), 625/50 (PAL)
HVS-3800S: SD model
In addition to the HD/SD multi-bit rate/multi-format model, the lineup also includes the HVS-3800S model specifically designed for SD. It provides the full range of features included in the HVS-3800 series at a reasonable price.
Easy Upgrading to HD/SD
By purchasing HVS-3800S, you don't have to worry about HD compatibility in the future. The HVS-3800S and HVS-3800HS share a common platform so when you examine converting to HD, you eliminate the need for additional investments to replace the main unit. Instead, you can upgrade to the HVS-3800HS for support of HD and SD with only a minimum amount of cost
New Control Panel
The HVS-3800 series includes compact, 12-button or 16-button or 24-button control panel. The control panel keeps the same familiar HANABI series operating system that has been widely used by our customers with a new design for easier usage and more functionality.


HVS-12ROUA:Rack moutable
12-button control panel


HVS-16OUA: 16-button control panel






HVS-24OUA: 24-button control panel
4RU Main Unit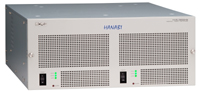 The main unit incorporates a redundant power supply, DVE cards, additional function options, and a wide range of other functions in 4RU size. The additional function options also allow installation of a number of video peripherals for use of fewer system devices and reduced space.
High-performance, Compact DVEs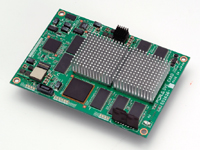 Internal DVE cards can be installed for enabling effects. Up to 2 cards can be installed. HVS-38DVE2D designed for HVS-3800HS. It enables use of 1-channel DVE in HD mode or 2-channel DVEs in SD mode. Also HVS-38SDVE2D designed for HVS-3800S. It enables use of 2-channel DVEs in SD mode. The channels can be assigned to any bus (BKGD, KEY1, KEY2, and KEY3).
Real 3-dimensional DVEs
In additional to regular DVEs, users can also install a card for the most eye-catching feature of the HANABI series, real 3D DVEs.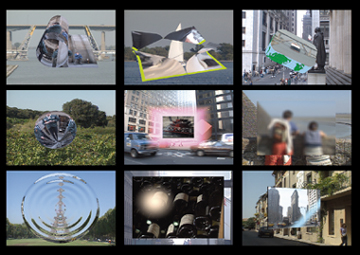 Real 3D DVE
Real-time rendering for mapping images to 3D shapes such as Page Turn and Sphere and providing complete 3D processing for DVEs

Uncompromised high image quality
Filtering is optimized for the image size for improved enlargement and reduction quality, and an edge key generation function is used to reduce jagginess for higher image quality

New defocus circuit design
Defocus effects can be applied as sub effects and used simultaneously with DVEs

Trail effects
In addition to regular decay trails and star trails, border trails are also available that provide trail effects in border colors

Internal still image memory
Includes an internal still image memory within DVEs to enable mapping of still images to the side image of a pizza box or the back side of a page turn.
Color Correction Features Added
Optional color correction functions can be installed in the primary and keyer. Process control, gamma corrections and various clip functions are all available. The parameters for any of these functions can be registered in the event memory to enable different changes to be made in the course of sequences.
Three color correction functions (balance, differential and sepia)
Gamma adjustment functions in HIGH, MID and LOW tones

Process control functions (video level, chroma level and setup level)

Various clip functions (RGB/YPBPR)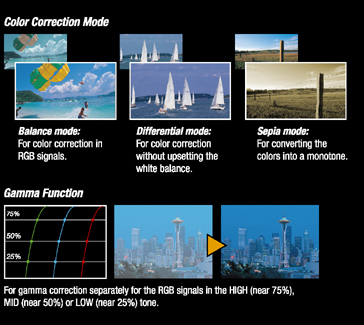 6 Keyers
The HVS-3800HS offers a total of 6 keyers, with 3 keyers for each M/E (2 keyers + 1 DSK) as standard. This enables keying of up to 9 layers when re-entry of one M/E line is used. Chroma key functions are also available for KEY1 and KEY2 of each M/E. Up to 4 keyers can be used.
Up to 6 Still Stores
In addition to the standard 4 still stores, a memory card can be used to enable importing of image data a PC and exporting images stored in the switcher. Logo animation and motion blur using divided areas of the image are also supported. Options can be added for two more still stores.
Line DVEs
DVEs can be applied to the PGM, PST, KEY1, KEY2, and KEY3 buses for enabling transitions for the image using wipe or mix. This makes it easy to set picture-in-picture and other effects.
Forced Background
The Forced Background function allows mixing or wiping effects inside the digital effects image for more versatile renditions of effects despite being a 2M/E switcher.
Event Memory
The HVS-3800HS includes an event memory that can store the data for up to 200 events and setting conditions.
Additional Still Image Storage
In addition to memory cards, HVS-38SS or HVS-38SSAM6/12 options can also be installed in the main unit. This enables storing of up to 200 still images files (in HD format) without using any external media.
*This option does not support recording or playback of the following formats:
1080/24p, 1080/24sF, 1080/23.98p and 1080/23.98sF
Movie Playback Function
An optional frame memory HVS-38SSAM6/12 can be installed as an expansion function to enable storage and playback of movie files as uncompressed HD video.
- HVS-38SSAM6: HD: 3 sec., 2 ea. or SD: 19 sec., 2 ea.
- HVS-38SSAM12: HD: 6 sec,. 2 ea. or SD: 38 sec., 2 ea.
Up to 16 AUX Bus Outputs
HVS-3800 series features 10 standard auxiliary output buses. HVS-38AUMV option can be added for 6 more auxiliary buses. Expansion of your system is easy. You can ever connect an optional auxiliary controller for remote operation.

4-split Screen Display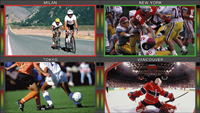 With the HVS-38AUMV option, the HVS-3800 series can accommodate two 4 input systems that can show split-screen displays on a single screen. The inputs can be assigned to any section of the split screen display. This enables use of fewer monitors for checking the display input without any external devices.
Up Converter and Down Converter Installatin
Up to 4 channels can be installed for up converter input HVS-38UC or down converter output HVS-38DC*. This enables up-converted signals to be assigned to the M/E, AUX, and KEYER buses in the same way as external input and internal still stores.
*The down converter output allows installation of one channel only.

Editor Support
Support is provided for a wide range of editing protocols. Installation of the optional editor interface HVS-38ED enables connection of editors various makers to this system. (Supported protocols: BVS-3000 and GVG-100)
Sequence Function
A sequence memory of up to 20 patterns can be set in combination with the registered event memory. Sequences can be linked to faders for even easier operation.
User Setting Buttons
Shortcut buttons are provided that enable registration of user-selected functions and menu options for speedy switcher operation.
Motion Blur
The Motion Blur function can provide blur trail effects for moving images. The effect level can be adjusted with the fader control.
Gradation Matte
A gradation function based on up to 5 colors is provided. Colors can be assigned to backgrounds, wipe borders, and keyer mattes.
Edit Preview
AUX 10 can be operated as an edit preview bus using control the editor. (This requires the optional HVS-38ED editor interface.)
Safety Area Marker and Color Bars
A safety area marker is provided for use during down conversion and can be displayed as a box or bracket shape. Color bar generation also comes standard.
ANC Data Through/Swap Function
In the AUX output, the ANC data can pass through or be swapped.
Network Support
The standard ARCNET interface is provided to enable connection of multiple OUs for a single main unit and control of multiple main units a single OU (up to five units).
Options
Input Card / DVE / Color Corrector Options
HVS-38HSDI: HD/SD 12 Input Expansion Card

HVS-38DVE2D: HD/SD-compatible 2D DVE Card

HVS-38DVE3D: HD/SD-compatible Real 3D DVE Card

HVS-38CC: Addition of Color Corrector
Expansion Options / Editor Interface
HVS-38IOEX: HVS-38AUMV/UC/DC Interface Card

HVS-38AUMV: Expansion of AUX/MV Card

HVS-38SS: Expansion of Still Store Card

HVS-38SSAM6/12: Expansion of Still Store and Animation Card

HVS-38UDIF: HVS-38UC/DC Interface Card

HVS-38UC: Up-converter Card

HVS-38DC: Down-converter Card

HVS-38ED: Editor Interface
Configration of expansion options

Hardware options
HVS-38PSM: Redundant Power Supply for Main Unit

HVS-12PSO: Redundant Power Supply for OU

HVS-38PSO: Redundant Power Supply for OU

HVS-TALR20/32: Tally Relay Unit

HVS-TALOC20/32: Tally Open Collector Unit

HVS-AUX8/16/32: 8/16/32-button AUX Control Panel

HVS-AUXRK: AUX Panel Extension Kit